In your Camera Settings, the Link Cameras tab will allow you to add additional cameras from other organizations into your dashboard. This allows you to view all the TrueLook cameras you have access to from one location instead of requiring different logins for each of the individual camera accounts.
To do this, you will first need the sharing links for the cameras you want to link. For information creating camera sharing links click here.
To link a new camera, select the Settings gear icon in the upper right corner of your TrueLook dashboard.  Select Camera Settings from the drop-down menu. Once on the Camera Settings page, select the Linked Cameras tab and select the +Link New Camera button.
Once you have pasted the sharing link, click on Save and your new camera will appear in the Linked Cameras tab. A linked camera can't be controlled like a camera in your actual customer account but will appear in your dashboard. 
To unlink the camera (remove it from your dashboard) click the "Unlink" button.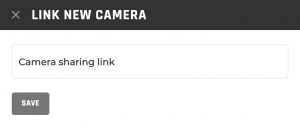 Does This Not Look Familiar?
If these images or directions don't match up with what you are seeing, you may have a different version of our app. Click below to switch to the correct help content.